This past weekend, I spoke at SQL Saturday #953 in Rochester, NY. As it is with all SQL Saturdays, I had a great time: doing my own presentations, attending others, and spending time with #SQLFamily! And I would be remiss if I didn't mention Andy Levy and the crew at the Rochester SQL User Group, who did a bang-up job putting the event together! Great job, all!
The weekend began with the speaker's dinner. While I had a great time hanging out with all my wonderful SQL friends, we also had a compelling conversation — enough that I wrote about it that night. It reaffirmed just how important professional development is within technical circles, and the importance of my endeavor of presenting professional development topics. Even Matt Cushing sent a tweet mentioning just how important professional development is. It made me feel pretty good knowing just how much I'm contributing to the technical community.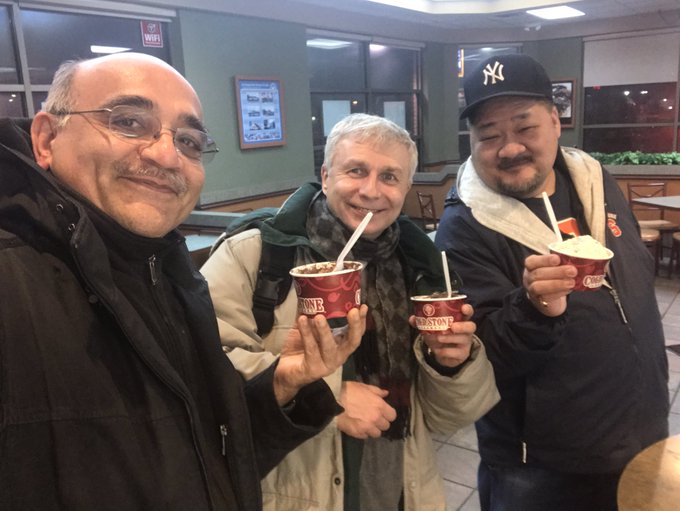 Of course, after dinner, Paresh and I just had to go for ice cream. On this occasion, we hit a Coldstone Creamery around the corner from the speaker's dinner. For those of you who don't follow me regularly, it has become tradition for Paresh and me (and anyone who joins us) to go out for ice cream at any SQL Saturday that we both attend. Paresh even started using a Twitter hashtag for it: #SQLIceCream!
There was a lot of talk about the weather leading up to the event. The National Weather Service had predicted heavy lake-effect snow (as much as two feet) leading up to the event. Rochester sits right on the bank of Lake Ontario, and as anyone who lives in upstate New York knows, is prone to lake-effect snow. The weather forecast even prompted the University of Maryland to reschedule a women's lacrosse game against Syracuse. As it turned out, the talk about bad weather turned out to be exactly that: talk. When I drove out to Rochester on Friday, the amount of snowfall was negligible, and the Thruway was clear sailing all the way from Albany to Rochester. There was a light dusting of snow on the ground when I woke up the next morning, but that was about it. Despite all the hype about the weather, it turned out not to be a factor.
I arrived at RIT a little later than I would've liked. Ordinarily, I like to settle into the speaker's room, maybe get myself some coffee, talk to some people, and relax a bit. But by the time I arrived, sessions were about to start. I barely had enough time to drop my stuff off in the speaker's room before getting to the first round of sessions.
Of course, the first session I attended was Matt's. I've pretty much attended his session each time I've had the chance. For a while, I had attended it every time he presented it, but that streak was broken when he started traveling to other places (such as Austin, TX) that were difficult for me to get to. Last year, Matt (along with another friend, Deborah Melkin) were named IDERA Aces. I won't get too much into the IDERA Ace program (use the link for more info), but one of the benefits is funding that allows you to travel to speak at events like SQL Saturday. (Congrats, by the way, Matt and Deb!) Matt is encouraging me to sign up for the IDERA Ace program for this year. When applications start coming out later this year, I will definitely look into it!
Speaking of Deborah Melkin, her session was up next in the room next door. I've seen her session before, and she does a great job with it. I have to confess, however, that I wasn't paying all that close attention (sorry, Deb!). The reason: my lightning talk session was up next, and I was going through my slides, making sure everything was ready to go. Last November, I had purchased a new laptop (an HP Pavilion x360), and this was my first time using it for a SQL Saturday presentation. I checked my slides, I tested my presentation clicker, and made sure everything was ready to go.
The next round included my lightning talk. I was scheduled to do my talk, along with two friends: Taiob Ali and Kimberly St. Jacques. The last time I saw Kimberly was at PASS Summit, which wasn't a good time for her. She had been scheduled to present a lightning talk at Summit, but was unable to do so because she had lost her voice. I'd felt really bad for her! I was glad to see that she had regained her voice and was able to present again!
My talk was sandwiched between Kimberly's, who spoke about SQL Server 2019 Enhanced PolyBase, and Taiob's, who talked about extended events. Kimberly and Taiob both gave great presentations!
Going on at the same time was a presentation by Tracy Boggiano, who talked about mental illness in tech. It sounded like a really interesting talk, and I desperately wanted to attend, but it conflicted with my lightning talk session. I told Tracy that I intend to attend her session the next opportunity that I had.
Lunch was the next order of the day. It was either Andy or Matt Slocum — I don't remember whom — who had a good relationship with a BBQ restaurateur. This same person has catered Rochester SQL Saturday every time I've attended, and the food was excellent every time. I highly recommend the pulled pork!
I decided to take the next round of sessions off. As much as I love attending SQL Saturday, one thing that never fails is that it tires me out. After lunch, I felt like I was going to fall asleep, so I retreated back to the speaker's room to relax. I pretty much just surfed the web and conversed with other speakers in the room.
I did attend the next session by Anna Hadnagy, who gave a presentation about feedback. This was her very first SQL Saturday presentation, and she knocked it out of the park!
The last time slot of the day came about, and it was time for me to do my own full-length presentation. I actually had a pretty good-sized audience: I'll guess around fifteen to twenty people. Even though it was the last session of the day, and everyone (including me) was tired, I made it a point to keep my audience engaged. They seemed to be into my talk, and I like to think that I presented well.
I did attend the after-event party. I enjoy hanging out with these people (they're called #SQLFamily for a reason), and any chance I get to spend time with them is welcome. I had a long drive home ahead of me; I left the party around 7:45, and pulled into my driveway around 11:30.
All in all, it was yet another awesome SQL Saturday! (Of course, I think they're all awesome!)
My next scheduled event is SQL Saturday Chicago on March 21, only a few weeks away! This will only be my second time in Chicago (changing planes at O'Hare doesn't count), and it'll be my first SQL Saturday where it is not feasible for me to drive. It should make for an interesting trip. See you there!